We now have access to Gale's Digital Scholar Lab at FIU Libraries!
What is Gale's Digital Scholar Lab? This is a product from Gale the allows you to create datasets and run text analysis on materials that FIU already subscribes to through our Gale databases. The following workshops are offered through Gale and are open to anyone in the FIU community.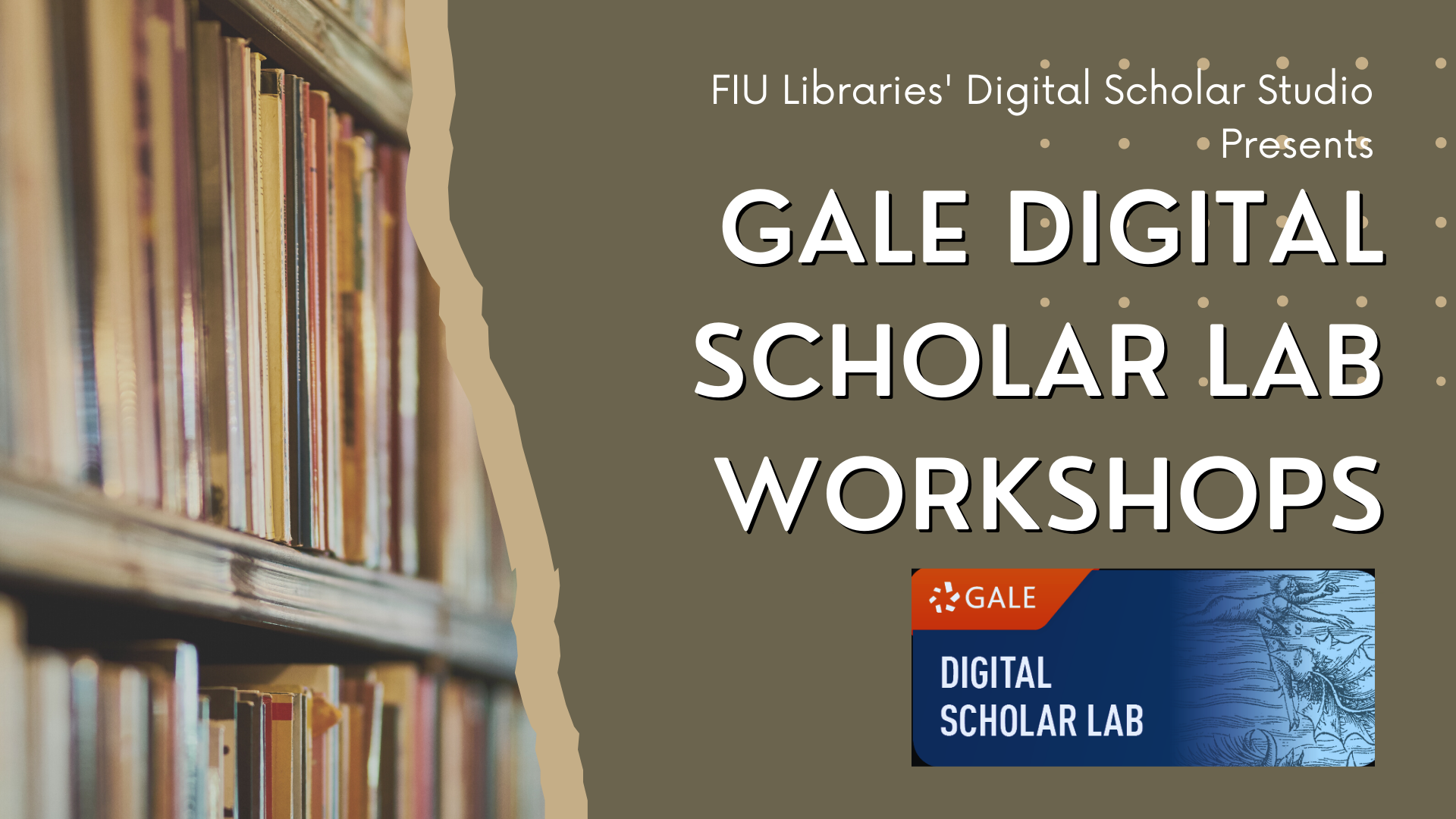 Gale Digital Scholar Lab – Training Webinar 
RESCHEDULED to Wednesday, October 12, 11:00am-12:00pm Eastern
Description: This session provides participants with the ability to familiarize themselves with the Gale Digital Scholar Lab and ask questions about the interface and workflow. The session covers performing search queries, curating and managing datasets, using analysis tools, and reviewing results.
Target Audience – All members of the University community – Library, Faculty, Post-Grads, Post-Docs, Undergraduates.
Outcomes – By the end of the session, participants will have a familiarity with Gale Digital Scholar Lab, including understanding the research workflow, where to access ongoing help, and some of the possibilities of digital scholarship for research and teaching.
This webinar will be led by Anne Nagrant, Gale Trainer. Anne has worked at Gale for 10 years, following a career in historical museums. She graduated from the University of Michigan—Ann Arbor where she studied history and anthropology.
---
Assembling Content Sets
Thursday October 13, 1:00-1:45pm Eastern
Building a content set is the first step of using Gale Digital Scholar Lab. Review factors to consider when putting together a content set. In this webinar, we will discuss several typical research questions, and show how to effectively search for Gale Primary Source content.
---
How Clean is Clean?
Friday November 18, 12:00-12:45pm Eastern
Between assembling a content set and running analysis, Gale Digital Scholar Lab offers an important middle step: Cleaning Texts for Computational Analysis. Learn why this step is beneficial, and the impact that different configuration options can have on research results.