Join us for Douglass Day 2022!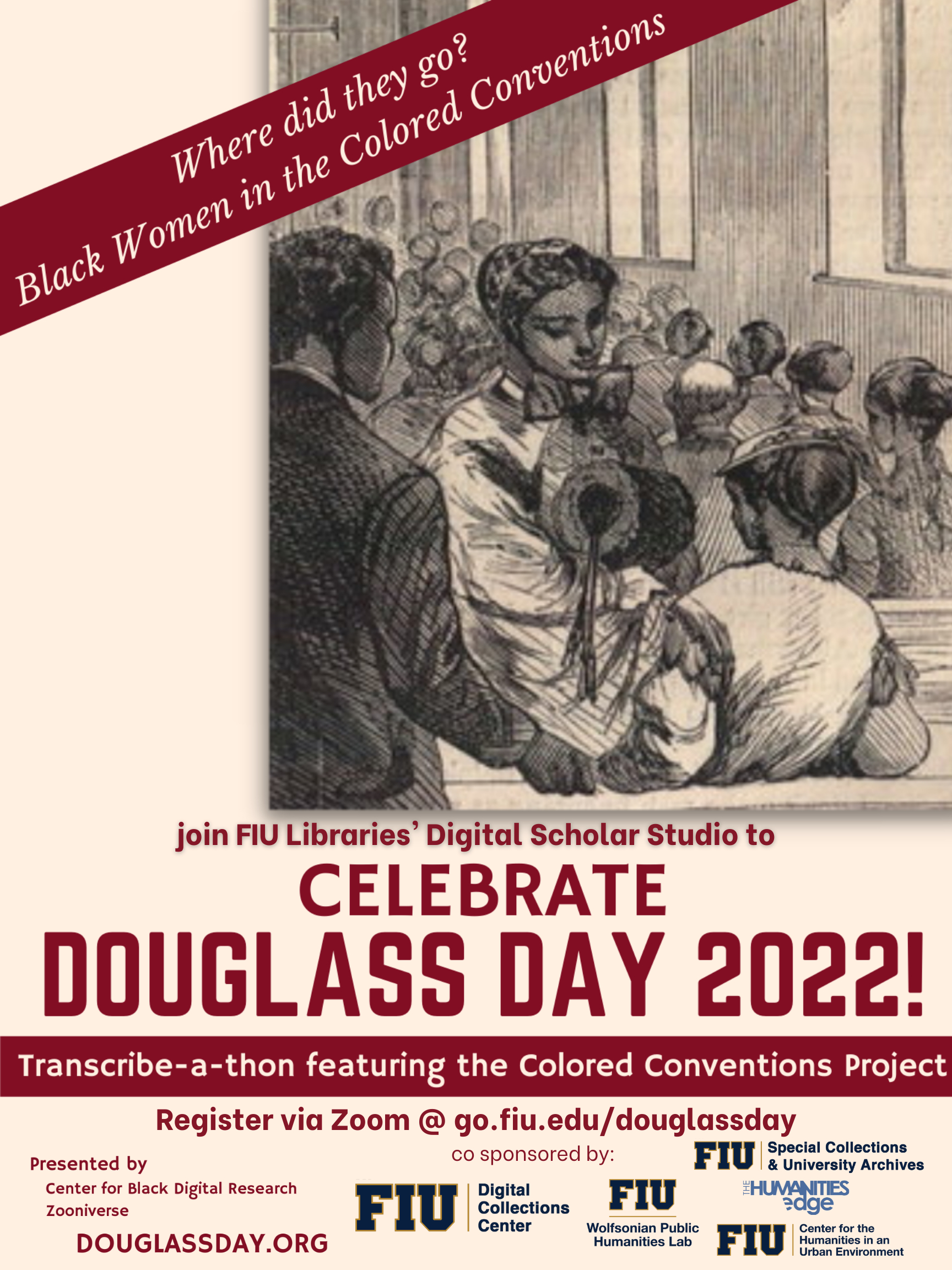 February 14, 2022, 12-3pm
Co-hosted by the Wolfsonian Public Humanities Lab, the Humanities Edge, and the Center for the Humanities in an Urban Environment 
Please join us for this celebration of Frederick Douglass' Birthday! The FIU Libraries will be hosting Douglass Day 2022 this year as a virtual event on February 14th from 12:00PM – 3:00PM. 
 
During the event participants will hear a lecture given by speakers sponsored by the Douglass Day Organization who will talk about the lives and legacies of Frederick Douglass and Black women involved in the Colored Conventions movement, the nineteenth century's longest campaign for Black civil rights. Then we will move on to a virtual transcribe-a-thon event to help transcribe the papers of the Colored Conventions Project. 
 
What is a transcribe-a-thon? Transcribe-a-thons are events in which people gather together to work side-by-side on a crowdsourcing transcription project. Together we can make historical documents more accessible! 
 
Learn more about Douglass Day and the history of the Colored Conventions movement.
The schedule of events will be as follows (subject to change):
Live broadcast – 12 to 12:30pm
Welcome & introductions
Sing "Lift Every Voice and Sing" (lyrics)
Overview for the Douglass Day 2022 program
Speakers on Douglass and Women in the Colored Conventions
Activity – 12:30 to 1pm
Time for transcribing, readings, discussions, etc.
Live broadcast – 1 to 1:30pm
Sing "Happy birthday" (both versions)
Add'l Speakers
Activity – 1:30 to 2:45pm
Time for transcribing, readings, discussions, etc.
Live broadcast – 2:45 to 3pm